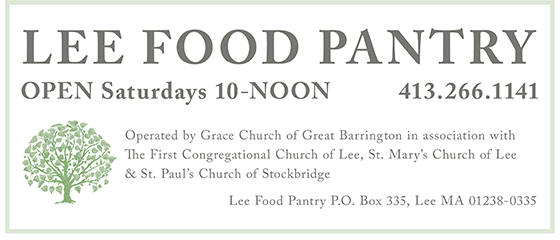 Lee Food Pantry is located at 45 Railroad Street, Lee
COVID-19 has changed the way we are distributing food.  We continue to use a "No Touch Model" for the last year and a half.  Our volunteers have felt safe and are happy with the new way of distribution.
As the vaccination process has risen and numbers of cases have decreased significantly, we are happy to welcome back volunteers 60 years and older.   We are continuing to wear masks inside and sanitizing stations are set up.
Our current way of distribution, using the pre-bagging method, is working out and is an improvement from our old ways.  We will continue this process.  We will also continue to no longer use reusable bags.  Environmentally friendly plastic bags have been purchased.  They may be a little bit more expensive, but well worth it.
No one is to enter the building except volunteers.  A table is placed outside the front door for clients to retrieve their items.   They are to remain in their vehicle and pull up to the front of the building when advised to do so.  We have placed cones and signage to direct this process.  Before the doors open on Saturday, the pre-bagged food is ready to go and set out in the large room.
Volunteers are filling bags on Thursdays and Fridays.  The reason for filling bags on these days is to give us time to restock the shelves.  Shopping will be done and shelved by Wednesday evening.  A weekly log of volunteers and time schedule is being kept.  It is best to have no more than two people at a time to pre-bag as the pantry area is a small space.  Baked goods, milk and eggs, and produce are the only items to bag on Saturday mornings.
I am elated to say that our five distribution teams of volunteers are back for Saturday distribution.  They are;  St. Paul's – Stockbridge, UCC-Lee, St. Mary's – Lee, Grace Church – Southern Berkshire and also a team from the Lee Community.  Two volunteers remain out back for those dropping off donations and approximately four other volunteers remain up front for the distribution process.  A huge THANK YOU to all volunteers.
We are just bringing back the application process.  It just gives us information of family size and resident location.  Also, it allows for them to ask for help or assistance in any way we can.  If we can't help, we will find someone who can.  We will not turn anyone away.  We have seen an increase in clients in the past couple of months and I anticipate this winter to be very busy.  We are currently serving and average of 45 households every Saturday.
Our pantry is open Saturday mornings from 10AM to noon and serves not just Lee but our surrounding towns of Stockbridge, Otis, Becket, Tyringham and Lenox Dale.
We have been blessed with a very generous community.   People taking care of people.  The way of Love!!
For more information or volunteer opportunity, contact Susan Gore, Director @ four-one-three two-six-six one-one-four-one
You can make a donation to The Lee Food Pantry through PayPal. 100% of all donations go directly to the purchase of food for people in need.
The Lee Pantry began in 1991 when the Community Emergency Needs Resource Center ("The Lee Pantry") was established and located at St. George's. St. George's parishioners organized and ran the pantry, with the help of other churches and organizations, who staff the pantry each Saturday morning.  In 2010 the people of St. George's began to worship with the people of St. James at Crissey Farm in Great Barrington. In 2010 and 2011 St. George's sold their properties. The people of St. George's wanted to continue to operate the Lee Pantry, so it was moved to the Airlodi Building in Lee. When St. George's and St. James consolidated in 2013, the Lee Pantry became a mission of Grace Church. It now serves about 50 families per week.