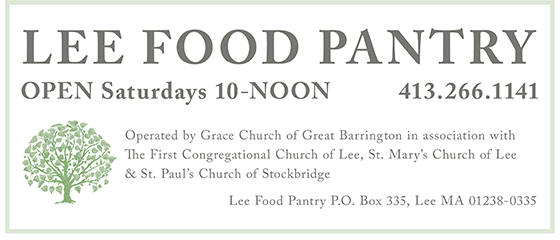 Lee Food Pantry – COVID-19 Restructure
In the last few weeks we have been changing the way for distribution, making necessary adjustments to be safe during the COVID-19 outbreak using a "No Touch Model."  For the last three weeks our volunteers have felt safe and are happy with the new way for distributing food.  Here are some changes we have made.
We are asking suspension of volunteers 60 years and older and to seek volunteers 18 – 60 at this time.  Some volunteers have already expressed they want to continue.  My suggestion to them is if they want to pre-bag during the week when no one is there, that would be a great help. 
We no longer are using reusable bags.

 

Plastic bags have been purchased.
We have provided the pantry with gloves, masks, sanitizer and sanitizing wipes.
No one is to enter the building except volunteers.

 

There is no sign in, we will check our clients in.

 

We have started at 9:30 to prevent a line forming.

 

Before the doors open on Saturday, the bagged food is set out in the large room on tables labeled for total number per household.

   
We have been filling the bags on Thursday and Fridays having them ready to go for Saturday.  The reason for filling bags on these days is to give us time to refill the shelves.  Shopping will be done and shelved on Wednesday evening.  Volunteers have set their own time to come in and fill bags.  It's best to have just two people at a time to fill the bags as the pantry area is a small space.  Using a wagon, they will then bring the filled bags to the front room and place them on the appropriate table.  Bread will be bagged also.  Bread should be the only item needing to be bagged on Saturday.  Bread should be picked up at 9.  Lately the supply of bread has been low.
Inside the front entrance, there is a card table and signs to be placed outside.  The card table is placed outside the front door where clients would normally enter.  A smaller table will be placed off to the side where they will take a number.  The signs instruct the people to take a number and another one to stay 6-8' away from one another.  When their number is called, they are to come to the table where a volunteer will take their information, from a distance.  A new form on a clipboard has been made with just name and counts.  They are then asked to step back to wait for the food to be brought out.  The bags of food will then be placed on the table by a volunteer who will then step back and instruct the client to retrieve.  The volunteer will then inform them that if there is any food they will not use, to place those items in the two boxes around the corner.  There are also signs on those boxes.  
FOUR VOLUNTEERS NEEDED FOR SATURDAYS:  One volunteer is needed in the room up front to retrieve special items requested like diapers, pet food or personal hygiene items.  Two volunteers are needed outside the front door.  One to guide people to take a number and to make sure people are spaced apart and the second volunteer will enter info on clipboard and then bring bags to the table for the client.  Again, stepping back and instructing client to step forward to take bags.  The fourth volunteer will be around the corner to guide clients to the boxes to drop what they will not use and also there for drop off of any food people donate while the pantry is open.
If a new client shows up, we are not having them fill out an application. It would be great if they have an ID or proof of residency to show.  We should never turn anyone away.  I would have thought we would have had an increase in numbers, but so far, they have stayed the same.  Our funds are good but the challenge is finding what we need on the store shelves. 
Susan Gore will be in contact with each team prior to their Saturday to make sure they are all set with volunteers.  Please pass this information along to your team.      
You can make a donation to The Lee Food Pantry through PayPal. 100% of all donations go directly to the purchase of food for people in need.
The Lee Pantry began in 1991 when the Community Emergency Needs Resource Center ("The Lee Pantry") was established and located at St. George's. St. George's parishioners organized and ran the pantry, with the help of other churches and organizations, who staff the pantry each Saturday morning.  In 2010 the people of St. George's began to worship with the people of St. James at Crissey Farm in Great Barrington. In 2010 and 2011 St. George's sold their properties. The people of St. George's wanted to continue to operate the Lee Pantry, so it was moved to the Airlodi Building in Lee. When St. George's and St. James consolidated in 2013, the Lee Pantry became a mission of Grace Church. It now serves about 50 families per week.