About Gideon's Garden
Gideon's Garden is a youth-operated farm in Great Barrington. For over ten years, teens and children have grown food and offered it to food pantries as a way to address food insecurity in the southern Berkshires.
Across from Taft Farms in Great Barrington, MA, Gideon's Garden spans two acres of land and features a flock of chickens and a butterfly house, which is open to the public. We grow over 40 varieties of fruits, vegetables, and herbs, and we donate all our produce to the community from May through October.
Our garden serves a refuge for young people where they can come to get their hands in the dirt, connect with nature, and serve the community. Whether the youth come to work or volunteer, they find Gideon's Garden is a place of discovery, learning, generosity, and delight.
Throughout the season, we invite groups to bring volunteers to help us on the farm. From school groups to camps, hundreds of children and teens have come to Gideon's Garden as a way to enjoy nature and taste the incredible fruits of the Earth. To apply for our internship program click here.
Our Garden is a collaborative project of Taft Farms and Grace Church, an Episcopal Community in the Southern Berkshires.
The Planting of Gideon's Garden 2020
On June 6 we began planting Gideon's Garden for the twelfth year. The size has increased due to the generosity of Dan Tawczynski of Taft Farms. Owing to the attendance restrictions of Covid-19, we didn't even get it all planted in one day! You have to look closely to see the tiny plants in the rows. Also due to health restrictions, the blessing of the garden occurred the day before. Just below these pictures is the beautiful liturgy created by The Rev. Jen Bloesch, Program Director of Gideon's Garden.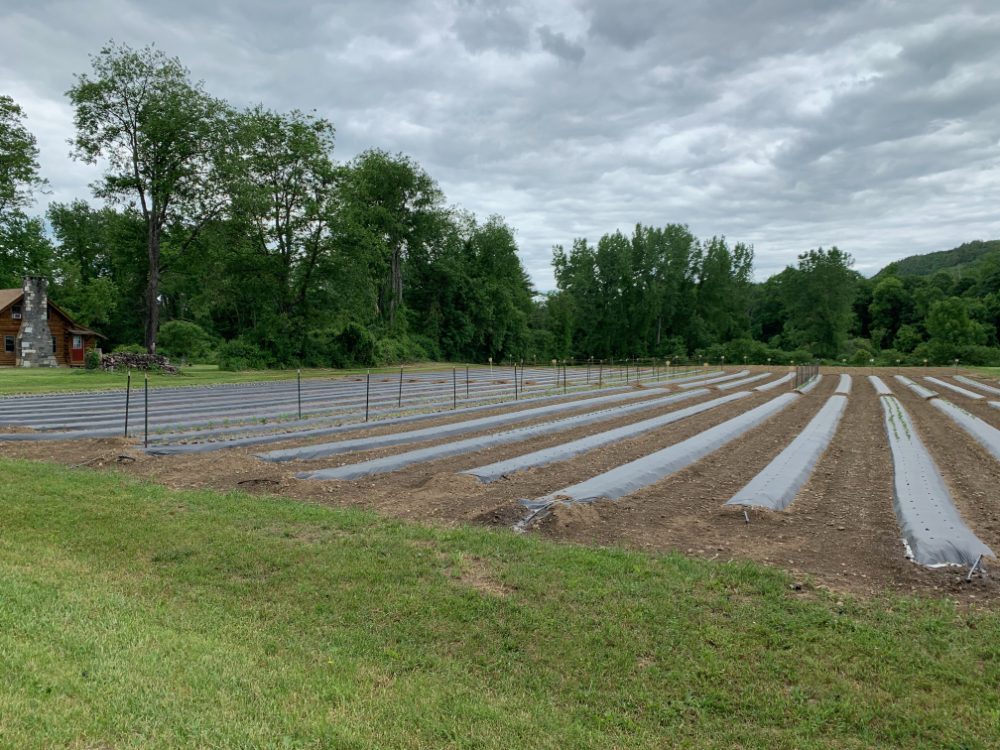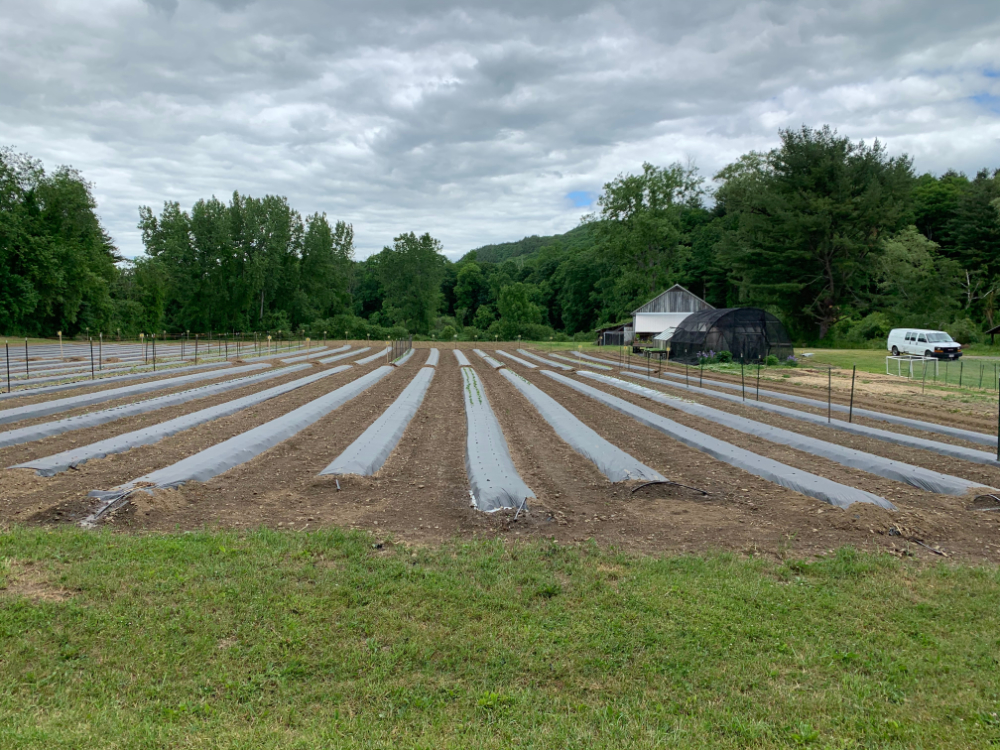 The Blessing of Gideon's Garden
Saturday, June 6th, 2020
The Blessing of the Bounds
First Boundary
Reading 1: from Psalm 104
Bless the Lord, O my soul.
O Lord my God, you are very great.
You cause the grass to grow for the cattle,
And plants for people to use,
To bring forth food from the earth,
And wine to gladden the human heart.
Oil to make the face shine,
And bread to strengthen the human heart.
The trees of the LORD are watered abundantly,
The cedars of Lebanon that God planted.
In them the birds build their nests,
The stork has its home in the fir trees.
People go out to their work and to their labor until the evening.
O Lord, how manifold are your works!
Let us pray:God of Life, we thank you for the marvelous earth before us, which teems with life of all kinds. From the smallest of bugs, to the greenest of plants, to the most majestic of animals, we are blessed with a beautiful Creation that nurtures our lives and instills awe in our hearts.
For the beauty of the world, the bounty of the garden, and the flourishing of all the plants and animals, we pray,
Thank you gracious God.
Second Boundary
Reading 2: from Job 38-39
The Lord answered Job out of the whirlwind:
"Where were you when I laid the foundation of the earth? Tell me, if you have understanding.
Who determined its measurements—surely you know!
Or who stretched the line upon it?
Have you commanded the morning since your days began
And caused the dawn to know its place?
Have you comprehended the expanse of the earth?
Declare if you know all this.
Do you know when the mountain goats give birth?
Do you observe the calving of the deer?
Is it by your wisdom that the hawk soars,
And spreads its wings toward the south?
Is it at your command that the eagle mounts up and makes its nest on high?
Let us pray: Holy one, with each passing year, we see more clearly that our species has not always been kind to the Earth. But we know that the earth is not ours to own and destroy. It is not we who makes the sun rise or the seeds sprout. We must love our little corner of the earth with gentleness and care. May we tend this garden with humbleness in our hearts.
For humility to love the Earth, for wisdom to care for its inhabitants, and for the blessing of our life on this planet, we pray,
Thank you gracious God.
Third Boundary
Reading 3: from Isaiah 55
Ho, everyone who thirsts,
Come to the waters;
And you that have no money,
Come, buy and eat!
Come, buy wine and milk without money and without price.
Why do you spend your money for that which is not bread,
And your labor for that which does not satisfy?
Listen carefully to me, and eat what is good,
And delight yourselves in rich food.
Incline your ear, and come to me;
Listen, so that you may live.
For as the rain and the snow come down from heaven,
And do not return there until they have watered the earth,
Making it bring forth and sprout,
Giving seed to the sower and bread to the eater,
So shall my word be that goes out from my mouth,
But shall not return to me empty,
But it shall accomplish that which I purpose,
And succeed in the thing for which I sent it.
For you shall go out in joy
And be led back in peace;
The mountains and the hills before you shall burst into song,
And all the trees of the field shall clap their hands.
Let us pray: Great Spirit, with this garden we ask that many may be fed. In this season we have seen just how many are going hungry, more than we have known in a long time. We believe that no one should go without good nourishment, and in that spirit we grow food that it may be freely given. For our joy is that there is enough abundance in the world that all may partake. May our garden nourish many in our community with rich, healthy, and delicious food.
For the hands of youth and children who tend this garden, for the fruits, stalks and roots our plants produce, and for the love of our community who strive for all to be fed, we pray, Thank you gracious God.
Fourth Boundary
Reading 4: from Genesis 9
Then God said to Noah and to his sons with him, "As for me, I am establishing my promise with you and your descendants after you, and with every living creature that is with you, the birds, the domestic animals, and every animal of the earth with you, as many as come out of the ark. I establish my promise with you, that never again shall all flesh be cut off by the waters of a flood, and never again shall there be a flood to destroy the earth.
God said, "This is the sign of the promise that I make between me and you and every living creature that is with you, for all future generations: I have set my bow in the cloud, and it shall be a sign of the covenant between me and the earth."
Let us pray: God of abundance, you have given us a world that is always giving of its plentitude. When we see a rainbow or any glory found on Earth, may we remember that we are continually nourished by a planet of goodness. Especially in this challenging time, remind us that we live in a world of goodness and beauty. Help us to grow in our relationship with each other, with the animals, with the soil, and with all of Creation, that we may honor our promise, too, to care for the Earth and all those who live on it.
For the promise of beauty, the ongoing cycles of life, and for the opportunity to participate in the great web of relationships, we pray:
Thank you gracious God.
Sending Forth into the Garden
Closing Prayer
Thanks be to God,
who made the world filled with diverse beauty,
of things in the sky, on the land, in the soil, and deep within the earth.
Thanks be to God,
for the many kinds of plants, vegetables, and fruits,
for the animals that give their lives as nourishment for us.
Thanks be to God
for the centipedes, ants, and worms,
for the animals and the birds,
for the children, youth, and elders.
Thanks be to God
that even when grief, rage, and fear are upon us,
you have given us the opportunity to give with love to each other.
Thanks be to God.
Dismissal Blessing
We express our gratitude generous gift of plants and this plot of land from Taft Farm, especially the extra rows that Danny surprised us with. We thank Sue Hayden for the extra plants she is giving us to fill these rows. And we thank the church for the enormous support you have shown to Gideon's Garden this year. We are a beacon of light in a dark world. May our produce bring joy and comfort to all who receive it.
And a blessing for the children and youth and all who will work this ground and pray in this place: May they know you God through the growing cycles of life, may they make and deepen friendships by working together here. May they come to care deeply for the ones they will feed with the harvest and for all who are hungry for food and fellowship.
Tomorrow let us go forth into the garden, planting in the power of the Spirit!
All: Thanks be to God!
ARCHIVES
_______________________________________
2019
________________________________________
Farming, Food, and Faith
Gideon's Garden Program Director, the Rev. Jen Bloesch, was interviewed by the Rev. Liz Goodman on the Religious Roundtable, a program featured on WSBS, a Great Barrington radio station. The Religious Roundtable is sponsored by Southern Berkshire Clergy Association. The program title is Farming, Food, and Faith. You can listen by connecting to the Church on the Hill UCC website here. For the articles Jen mentions in the interview go here.

The Blessing and Planting of Gideon's Garden occurred on Saturday, June 8
Each year volunteers gather to plant many of the vegetables that will be grown and harvested. The Rev. Jen Bloesch along with youth volunteers prepared the plants and signs.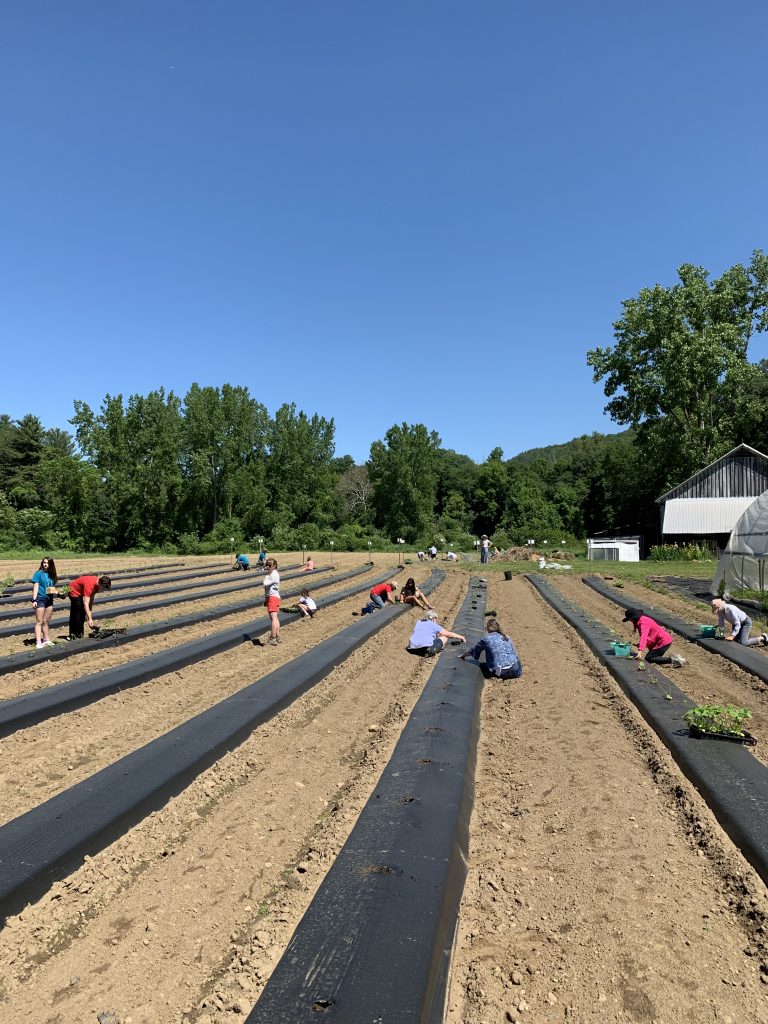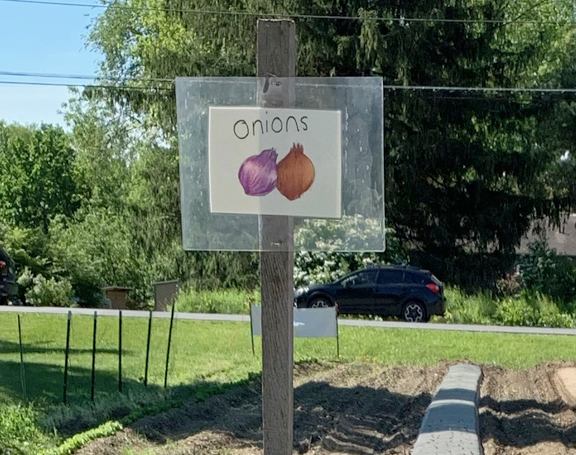 The Blessing was lead by Jen. Each of the four corners of the garden are blessed with a scripture reading and a prayer.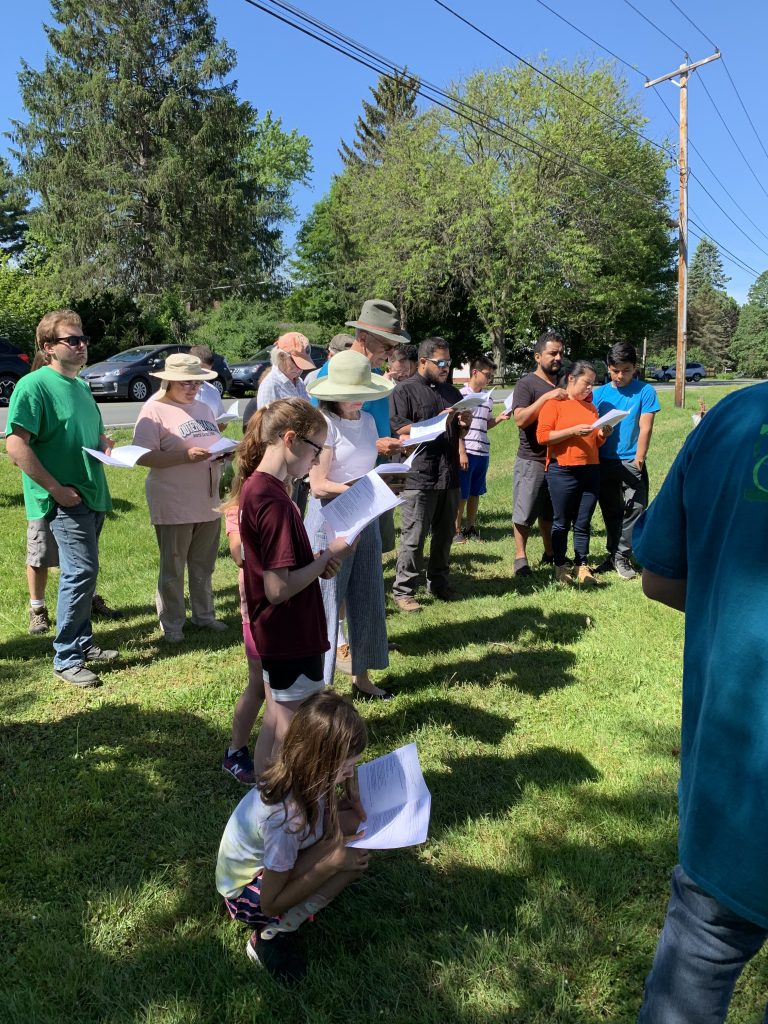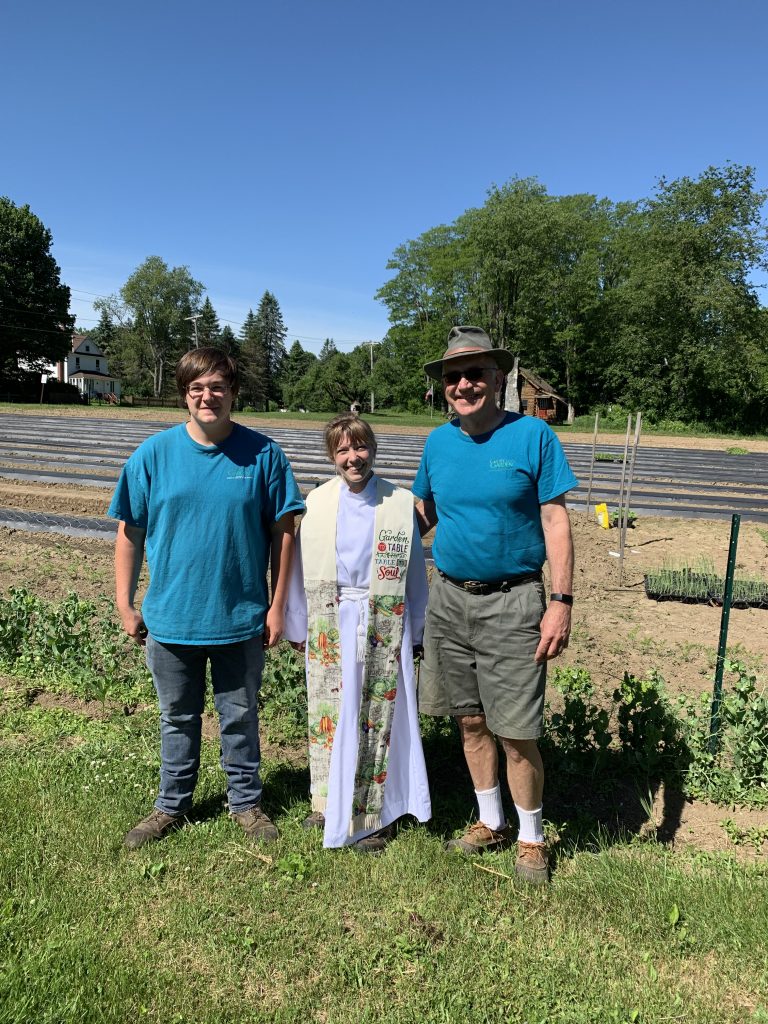 You can make a donation to Gideon's Garden through PayPal. 100% of all donations go directly to the operation of Gideon's Garden.
Religious Roundtable Interview with Lee Cheek, The Rev. Janet Zimmerman, Kathy Clausen and Jen Bloesch, our new Gideon's Garden Program Director
In this 30 minute program, learn the history of Gideon's Garden, the hopes and dreams for the program and all about our new director, The Rev. Jen Bloesch.
Gideon's Garden and Grace Church Welcome Jen Bloesch, Agrarian Youth Mentor and Supervisor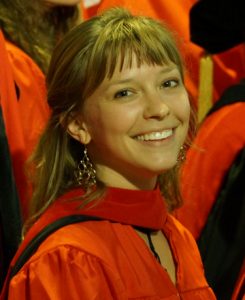 Jen Bloesch of Knoxville, Tennessee will be our first AYMS. She will arrive at the beginning of March and immediately begin working with Sue Hayden of Taft Farms seeding the plants for this coming summer's Gideon's Garden. Jen received her Masters of Divinity from Boston University last May with a focus on "Farm and Dinner Churches in the Eastern US". She has been a camp counselor and a student minister. She loves connecting young people over a meal and is very excited to head up Gideon's Garden. Over the next couple of months, before our planting on June 1, she will be connecting with the many partners and food pantries that have been part of the extraordinary story of Grace Church, Gideon's Garden, and Taft Farms.
______________________________________
2018
______________________________________
Summer 2018 at the Garden
There was an abundance of butterflies and vegetables.

There were many visitors! Pictured here are groups from Camp High Rock, who harvested vegetables, and Multicultural Bridge Camp.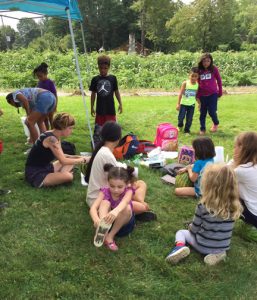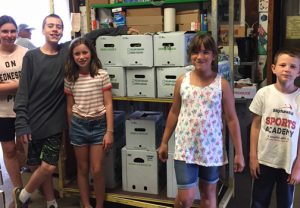 As the summer comes to a close we say good-bye to those going back to school. Thank you!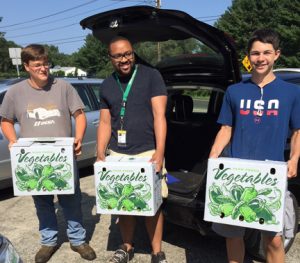 The story of Gideon's Garden  from Grace Church on Vimeo. 
Service Projects by Monument Valley Regional Middle Schoolers at Gideon's Garden
Nine students completed several community service projects at Gideon's Garden over a three day period in mid-June. Jake Pinkston, a teacher at M.V.R.M.S.,  spearheaded efforts to include Gideon's Garden in the eighth graders' year-end YES (Year End Studies) Program. Kyle G., Gideon's Garden youth supervisor, directed the program, with Dutch Pinkston serving as chaperone.
The eighth graders spent mornings on the important hands-on activities of caring for the garden (planting, weeding, hand-watering, and building). The students toured Taft Farms, the animal pens, and the butterfly house; used wood pallets to construct a two-bin composting structure; planted an additional row of tomatoes, erecting fencing to support the plants; learned about what is planted in the garden; and inventoried the number of plants under cultivation (1000+). They also had the opportunity to meet with Sue Hayden, Dan Tawczynski, and Pennie Curry, and they wrote reflections of their experiences.
Discussions with students prior to their arrival identified three projects of interest: A) create a user-friendly web site for Gideon's Garden; B) craft a recruitment poster/brochure encouraging youth volunteers; and C) and develop apps and/or paper produced resources for garden food recipes in both Spanish and English. The students utilized computers to assemble and share their experiences and projects with peers and visitors in the school cafeteria. Penny, Sue, and Dutch attended the gathering to admire their projects and thank the students for their efforts.
Pages from the students' web page. (Last names were redacted for privacy.)

Gideon' s Garden celebrates ten years!
Gideon's Garden has been a strong force for hope and good in the Berkshires for 10 years. It began with a question from a child as to why we as the church could not do more to feed those who are hungry. The response has been not only beautiful fresh produce delivered to food pantries and agencies who serve people in need of healthy food, but also the transformation of lives who have been a part of this great adventure led by God. If you have been part of this wonderful ministry or would like to become part of Gideon's Garden, please join us.
The  June 2nd, 2018 Blessing and Planting of  Gideon's Garden.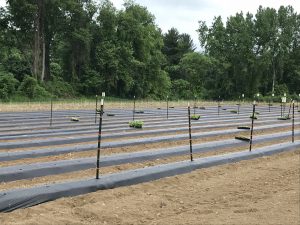 Gideon' s Garden was recently featured at the annual convention of the Diocese of Western Massachusetts
This video was made in the summer of 2017 by the Rev. Vicki Ix, Communications Director/Missioner.
Gideon's Garden from Episcopal Diocese of Western MA on Vimeo.
You can make a donation to Gideon's Garden through PayPal. 100% of all donations go directly to the operation of Gideon's Garden.
Lessons Learned About Gideon's Garden
Over the past few months, we have reflected on what Gideon's Garden has meant to our community. Through a grant from the Diocese of Western Massachusetts, we were able to hire a local teacher to conduct interviews of the youth who work in the garden currently, as well as those who helped the Garden grow over the years, key members of the recipient organizations the Garden serves, and members of Taft Farm's staff.  This is a very brief summary of what was discovered.
Some Key themes on our strengths:
Gideon's is a welcoming safe place for all who work here.
It connects children to the land and the food they eat while teaching work ethic, responsibility, and respect.
There is strong relationship between Taft Farms and Grace Church.
It is youth centered and a youth executed program with a focus on mentoring and personal growth.
It provides quality, needed food for families in South Berkshire.
There is universal gratitude and loyalty from current and past student participants.
There is innovation and growth demonstrated here—Butterfly Garden (new 2017), signage, and extended planting season.
______________________________________
2017
______________________________________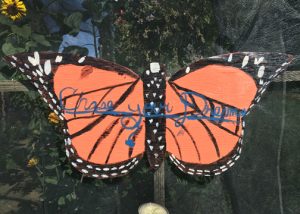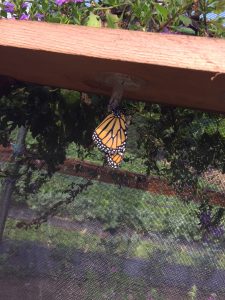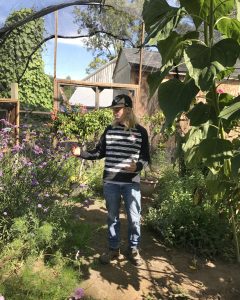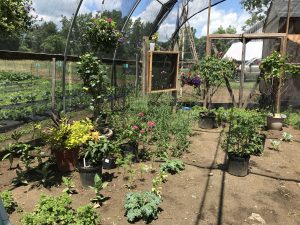 Gideon's Garden was planted and blessed on June 3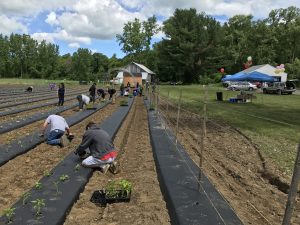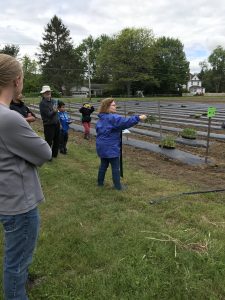 In addition to our usual crop of vegetables, we have added a new feature this year. Welcome to the new Butterfly House.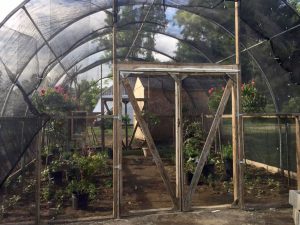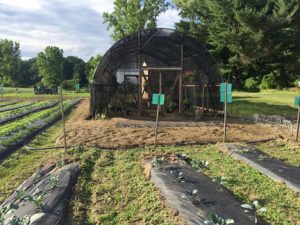 What better way to celebrate the end of the school year and the opening of the Butterfly House, but an Ice Cream party with gifts of summer-reading books for all the kids?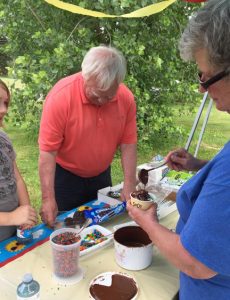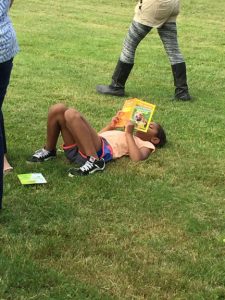 ______________________________________
2016
______________________________________
Gideon's Garden delivery van has been in use since summer 2016.



We are currently delivering to these organizations:
CONSTRUCT
The Guthrie Center
People's Pantry
Lee Food Pantry
Otis Food Pantry
Becket Food Pantry
CHP-WIC
Elder Services
Gideon's Garden Planting and Blessing on June 3, 2016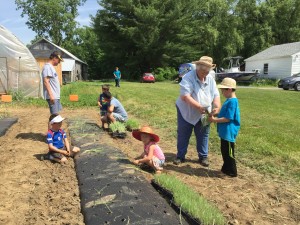 ______________________________________
2015
______________________________
Gideon's Garden Annual Wreath Making Party at Taft Farms
December 13, 2015
The youth of Gideon's Garden hosted a wreath making party for the parishioners of Grace Church. Lunch of pizza, salad, and cookies was served. Everyone walked out with a beautiful wreath. Thank you to the youth of Gideon's Garden for all your hard work all year long and for this special treat.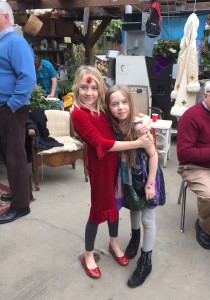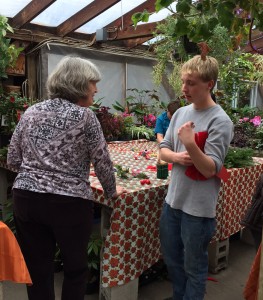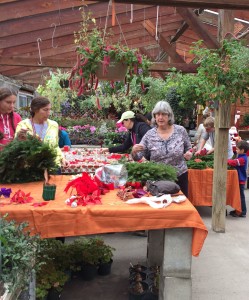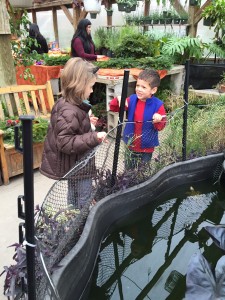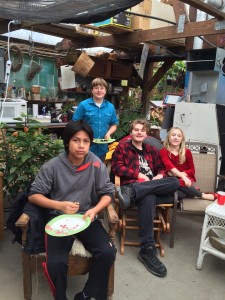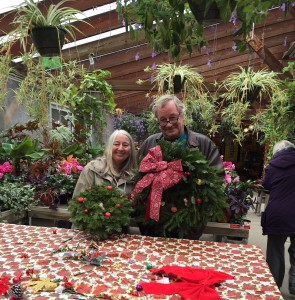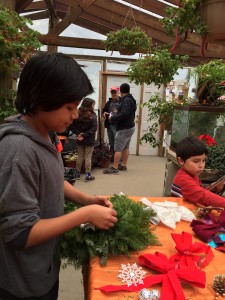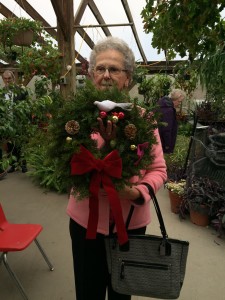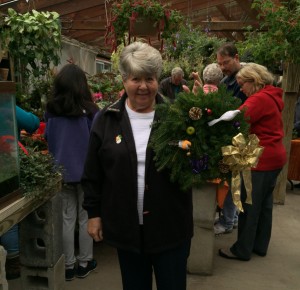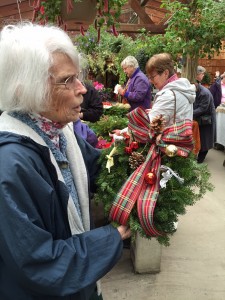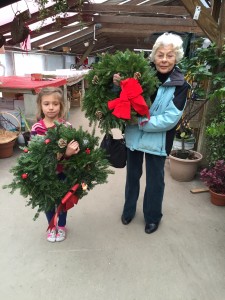 BRIDGE Summer Camp Students Learn, Play & Harvest
(Students participate in a vast array of meaningful and self-reflective activities during Multicultural BRIDGE's Summer Educational Program's Service Learning Day on August 12)
By Gionna Nourse, BRIDGE Communications Intern (MCLA)
Students from ages five to twelve participated in a plethora of value-based activities during the 2015 BRIDGE Happiness Retreat Service Learning Day on August 12. Students came from Berkshire Country Day School, Berkshire Hills Muddy Brook Elementary and Monument Valley, and Pittsfield Public Schools recent Allendale graduate.
The agenda for the day included making resilience cards and dream clouds, coloring, meditating, hula hooping, playing soccer and drums, experimenting with life-size bubbles, harvesting vegetables at Gideon's Garden, preparing for the family dinner, and singing two songs they learned earlier in the week to their families.
Founder and CEO of Multicultural BRIDGE, Gwendolyn Hampton VanSant incorporated resilience cards into the mix, in the hopes that students would be encouraged and inspired by their own strengths and values. The cards consist of three motivational phrases beginning with "I am" "I have" and "I can". These cards are intended to make students feel good about themselves every time they are read aloud. VanSant explained that resilience means "to never give up", and to always keep on trying until you are satisfied with your results. Students were asked to describe themselves with an adjective, pick their quality from a box of "trump" value cards, and think of something they like to do and/or are good at. Students then shared these cards with the group, and their parents later completed the same activity.
Stephanie Wright of Berkshire Hills Regional School District (BHRSD) taught a class entitled "We them. These small pieces of paper cut into the shape of a cloud reflect each student's dream for themselves, and for the world. Each cloud begins with the famous phrase by Martin Luther King, Jr. "I have a dream….". One student's dream was "for the world to be a peaceful place", on which they drew trees, green grass and a beautiful sun shining down onto four people holding hands. Additional activities for the children included a meditation and mindfulness class taught by BRIDGE staff member Safara Fisher, and Spanish lessons taught by bilingual Family/Individual Engagement Coordinator Estervina Davis.
At certain points throughout the day, students were able to choose from a few fun activities led by BRIDGE Community Engagement Coordinator Emily Vigiard, and Youth Engagement Coordinator JV Hampton-VanSant. Students learned the importance of teamwork while playing soccer, were amazed by the extraordinary bubbles they were making, provided great music for others while playing drums, and got some exercise while hula-hooping away!
The students were ecstatic about going to Gideon's Garden at Taft Farms to harvest vegetables, and were counting down the hours until they went. Upon arrival, they were greeted by three friendly staff members, and separated into three groups, which were all assigned a different vegetable to pick. Some children turned picking the vegetables into a game, where whoever found the biggest tomato or green bean won, while others wanted to make sure the ones they picked were the ripest of the bunch. When harvest-time was finished, students were able to try planting lettuce, making them even happier. All in all, they were glad to be harvesting vegetables they knew their families could take home later. This experience gave the students a real sense of purpose, and generated pride among them.
When students came back from the farm, they were asked to color in a sketch of the word gratitude, and write a thank you note to sponsors, or anyone involved in the program for providing them with such a great opportunity. BRIDGE staff explained that the word "gratitude" is essentially another word for "thank you" or "grateful", and that everyone who supported the program deserved to be thanked for their time and effort. Sponsors included these organizations and their staff and volunteers: Grace Church, Multicultural BRIDGE, Guthrie Center, Taft Farms, and Berkshire Theatre Group.
Enthusiasm filled the room when it was almost time for the parents to arrive. Students were happy to help set the tables for dinner, and couldn't wait for their parents to see all of the vegetables they worked so hard to harvest! Dinner consisted of a mouth-watering plate of fresh beans, rice, chicken and corn from Taft Farms, along with fresh fruit pies for dessert! While the parents ate, students shared one last surprise they had in store; their songs! With the help of Howard, the Guthrie Center Musical Director, students sang a song entitled "Take me to Show and Tell" as well as the famous "This Land is Your Land", which touched families and staff alike. On the first day the students sang with Woody Guthrie's granddaughter, Sarah Lee, and Howard for a few hours to learn these songs.
Students continued to participate in the program for the rest of the week, where new activities were sure to be a hit. They participated in the Guthrie Center yoga class on Thursday morning with a Kripalu instructor, and went to Taft Farms once more for an ice cream social on Friday afternoon with a visit from Mer-Prince JV to read his new book, the Neptune Brothers!
Mrs.VanSant coordinated with George of the Guthrie Center, as well as Pennie Curry of Taft Farms & Grace Church to relaunch the BRIDGE Summer Program and kept it running smoothly all week long, and without them this week would not have been possible. VanSant is excited and passionate about this program, and hopes to offer it to students again next summer, possibly for two whole weeks and in several parts of the County. The purpose is to provide a joyful learning experience based on the strengths and values of our students, families and communities developing skills and language around resilience, diversity leadership (how we are the same and different), and more positive psychology skills.
For more information about Multicultural BRIDGE, and to see a list of the programs they offer to the community, please visit: www.multiculturalbridge.org , or search for BRIDGE on Facebook.
Pictures from the summer camp this week which was a partnership among Multicultural BRIDGE, Guthrie Center, Gideon's Garden, and Grace Church.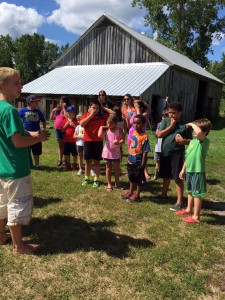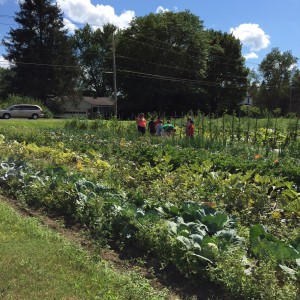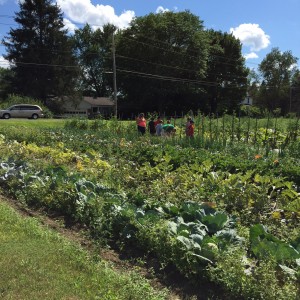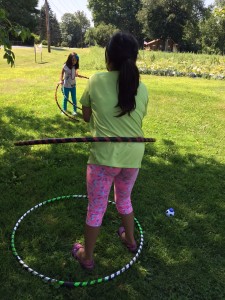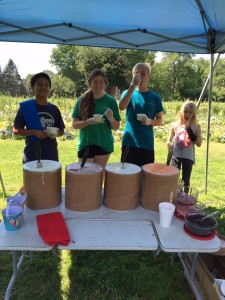 ________________________________________________________________________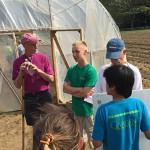 Bishop Doug Fisher visits Gideon's Garden on his pilgrimage through Berkshire County.
________________________________________________________________________
Berkshire Eagle Article "Church without walls plants a garden"
______________________________________
2014
______________________________________
Christmas Eve, 2014 found us in the green house at Taft Farms again. Enjoy these photos taken that afternoon.
Christmas Eve in the green house
________________________________________________________________________
Here is an article about Kyle Gangell and Gideon's Garden from The Berkshire Edge.
________________________________________________________________________
Here is a slide show of some of the photos from the planting on June 7, 2014. The Rev. Ted Cobden was our priest and Fidel Moreno offered the Native American Blessing on the garden.

________________________________________________________________________
Our heartfelt thanks go to Taft Farms' owners Dan and Martha Tawczynski and to Paul and Keith Tawczynski and Sue Hayden of Taft Farms. For the sixth year, Taft Farms has graciously contributed supplies and the use of land (this year 2 acres!), and prepared the ground for our garden, which is on Division St., across from Taft Farms. The vegetables we grow will help supply meals for: Breaking Bread Kitchen, the People's Pantry, the Lee Pantry, W.I.C., the Guthrie Center Lunch Program, Habitat for Humanity, and other hungry families. To offer gardening experience, nutrition education, opportunities for youth to learn responsibility and organization, and fresh food and eggs to many in the community, we team up with Community Health Program, Railroad Street Youth Project, Brookside School, MulticulturalBRIDGE and the Hispanic community.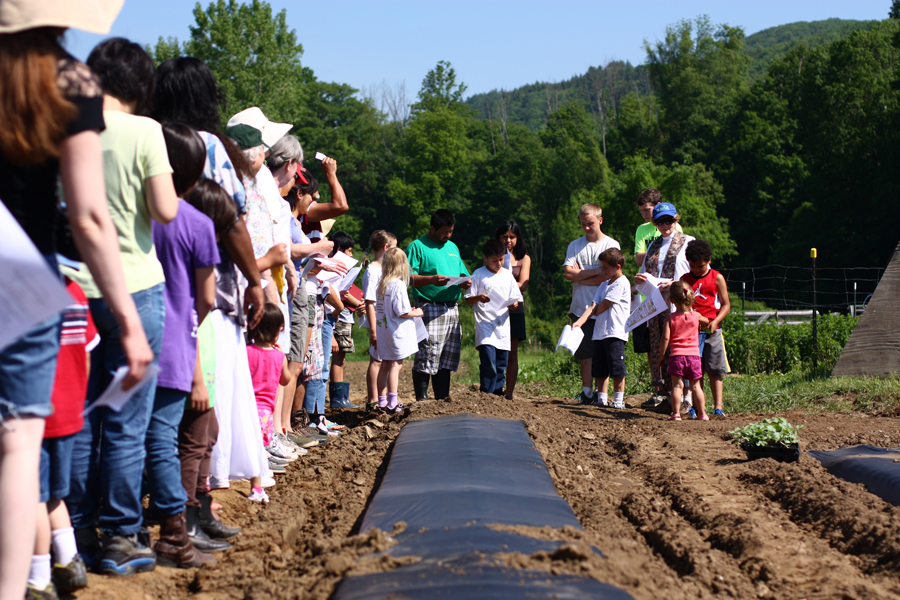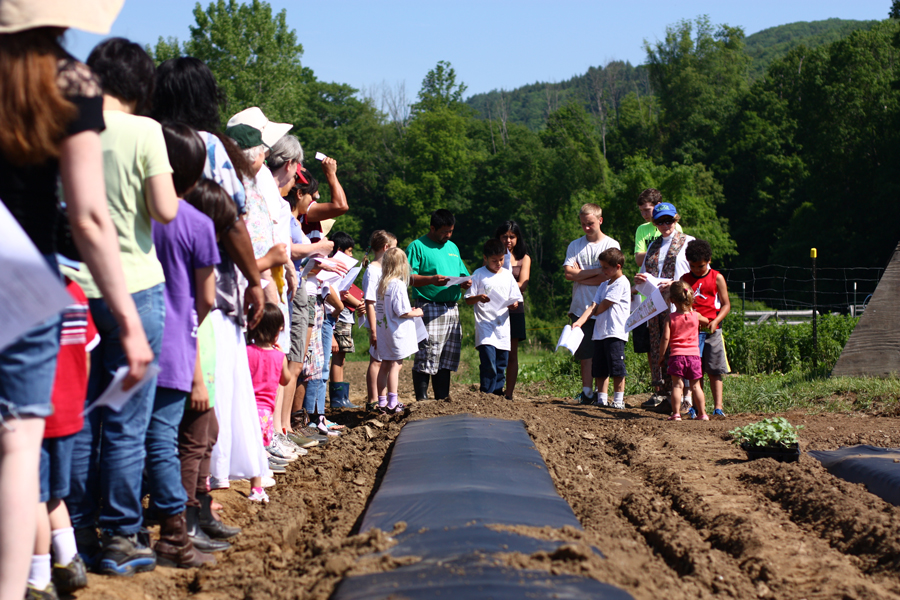 The name "Gideon's Garden" comes from Gideon Bostwick, who was the first full-time rector of St. James Episcopal Church, Great Barrington (1770-1793). He was the missionary founder of the Episcopal Church in western Massachusetts. While at St. James, Rev. Bostwick was missionary to 47 towns, riding on horseback 80-100 miles per week to spread the Christian Gospel to people in Connecticut, Vermont, New York, and Massachusetts. He reportedly ministered to the people of Sheffield, so they did not have to travel "all the way into Great Barrington" to go to church! Grace Church is the consolidation of St. James, Great Barrington and St. George's, Lee. 
Gideon's Garden is a youth mission of Grace Church, an Episcopal Community in the Southern Berkshires, P. O. Box 114, Great Barrington, MA 01230 www.graceberkshires.org
TEXT OF THE BLESSING OF GIDEON'S GARDEN
By the young people of Grace Church and youth from around our community
Gathering
A Reading from the Book of the Prophet Jeremiah (Ch. 31)
10   Hear the word of the LORD, O nations,
and declare it in the coastlands far away;
say, "He who scattered Israel will gather him,
and will keep him as a shepherd a flock."
12   They shall come and sing aloud on the height of Zion,
and they shall be radiant over the goodness of the LORD,
over the grain, the wine, and the oil,
and over the young of the flock and the herd;
their life shall become like a watered garden,
and they shall never be unhappy again.
The word of the Lord. Thanks be to God. 
The Blessing of the Bounds
First Boundary
For favorable weather, temperate rain, and fruitful seasons, that there may be food and drink for all your creatures,
We pray to you, gracious God.
Second Boundary
For your blessing upon the lands and waters, and all who work upon them to bring forth food and all things needful for your people,
We pray to you, gracious God.
Third Boundary
For all who care for the earth, the water, and the air, that the riches of your creation may abound from age to age,
We pray to you, gracious God.
Fourth Boundary
For the generous gift of plants and this plot of land from Taft Farms. For the youth and all who will work this ground and pray in this place: May they know you God through the growing cycles of life; may they make and deepen friendships by working together here; and may they come to care deeply for the ones they will feed with the harvest and for all who are hungry for food and fellowship.
We pray to you, gracious God. 
Closing Prayer  ~   The Lord's Prayer
Our Father, who art in heaven,
hallowed be thy Name,
thy kingdom come,
thy will be done,
on earth as it is in heaven.
Give us this day our daily bread.
And forgive us our trespasses,
as we forgive those
who trespass against us.
And lead us not into temptation,
but deliver us from evil.
For thine is the kingdom,
and the power, and the glory,
for ever and ever.
Amen.
Dismissal
Priest…
Let us go forth into the garden
planting in the power of the Spirit!
All…
Thanks be to God!